The Congregational Energy Audit: Getting Ready For Audit Day!
Once your congregation has decided to audit its energy use to find to find cost savings and lighten its environmental impacts, you'll need to start preparing for the actual audit itself. First, you'll need to find a professional auditor with the right experience and equipment to assess your campus' energy use and potential savings. Check RESNET's directory of certified energy professionals, and ask area congregations for referrals.
In order to prepare for your audit, the auditor will need access to your energy bills, as well as any building plans you have available. In our case at St. John's, I was able to give him access to our data on ENERGY STAR's Portfolio Manager tool; paper bills, or online services from your utility providers should work just as well. We fortunately had recent architectural drawings of some of our building space; for the rest, I hand drew sketches of floor/room layouts. Any information you can provide ahead of time will help.
Audit Day!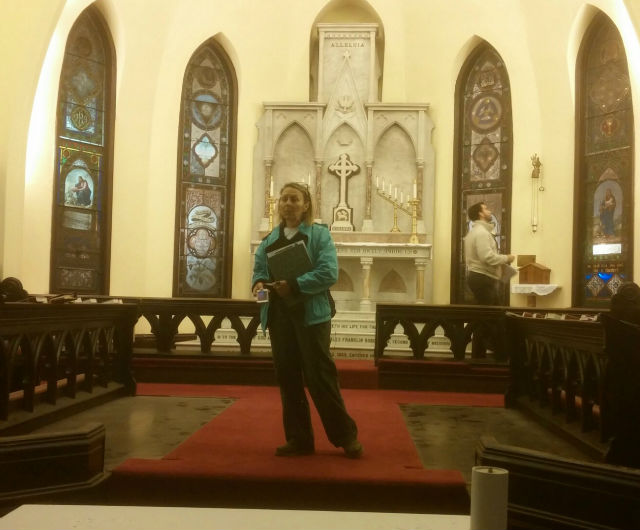 When the day for you audit arrives, make sure the people that know the most about your buildings and systems are available – at least 1 of the 4 hours of our Level 1 audit was spent in discussion of details, needs, and goals for our energy systems and use. Make sure that you're able to access HVAC systems, boilers, hot water heaters, lighting installations, stove venting hoods… anything that uses energy in your buildings – our auditor spent a few minutes, for instance, examining our organ blower! Be prepared to get a little dirty – you'll be poking around in rarely-accessed parts of your buildings, so there will be dust and dirt. Finally, keep the party size to a minimum: you'll want the people with the most knowledge on hand, but others hanging around asking questions can slow the process down.
I had our church's sexton (maintenance person) Bryan Cather take the lead with our auditor: Bryan knows the buildings and systems as well as anyone, so he could usually answer questions off of the top of his head. As the person who'd spearheaded this effort, I also joined in. Auditor Gordon Schweitzer and LEED Associate/consultant Katie Belisle-Iffrig made a methodical trip through our buildings, from basements to nave.
After their thorough examination of buildings and systems, indoors and out, the audit wasn't finished: Gordon still had to return at a later date to do thermographic inspections of doors and windows. After that, of course, he had to pull all of the data he'd gathered together into a practical report that identified the steps we could take, along with costs and payback times, to reduce our energy load.
I learned a ton about our buildings during this process, and got to go into places and spaces I'd probably never see otherwise. With buildings dating back to the 1910s, it was a bit of a history lesson. Furthermore, I got to see how all of this stuff works together – or, at least is supposed to!
For the last post in this series, I'll review what we learned from the audit, and the next steps we may be taking as we work to make St. John's a better steward of the resources it uses.
St. Louis-area readers: Interested in learning more about the local partnership between USGBC and Missouri IPL to provide audits to congregations? Consider attending their "Greening Your House of Worship" workshop on February 22nd at Lafayette Park United Methodist Church, 2300 Lafayette Ave. This is a free event, but it does require registration (which you can do here).
Photo credits: Jeff McIntire-Strasburg