Unitarian Universalist Green Sanctuary: A Model of Environmental Stewardship
While many faith communities find it a challenge to "green up" their congregations, one community has successfully developed a model program combining spiritual outreach with environmental advocacy. Unitarian Universalists (UU), a progressive interfaith theological movement, has created the Green Sanctuary Program, and it is helping to guide their congregations in becoming environmental advocates for the Earth.
Building Environmental Awareness Within a Green Sanctuary
The Green Sanctuary program began in the late 1990s. UU theologist Fred Small proposed the Green Sanctuary Program, inviting congregations to carry out a series of actions addressing environmental issues. Goals of the program include building environmental awareness, generating personal lifestyle changes, motivating the community to action, building spiritual and environmental connections, and rectifying environmental injustices.
Small presented his concept at the 1999 UU General Assembly, where members adopted it and created a manual for the program. After many years of trial and challenge, the UU Green Sanctuary Program launched in 2006. By 2007, over 125 UU congregations had enrolled in the program, working to meet environmental goals for their community and accreditation for their congregation as a Green Sanctuary.
Respect for the Interdependence of All Existence
Seeking more information on the program, I spoke with Carl Svoboda, co-chair of the Green Sanctuary committee at the Unitarian Church of Calgary, Canada. They achieved recognition as a Green Sanctuary in 2007. Their environmental goals,Svoboda said, "stem from the seventh Principle of Unitarian Universalism, Respect for the interdependent web of all existence of which we are a part. To do that, our activities have to fit within this. One of our mandates is to green up the facilities at the church. It's an ongoing process. You can't do it all at once. One project is the zero scape gardening on the east side of the church using rain water and natural enhancements. It's really going well."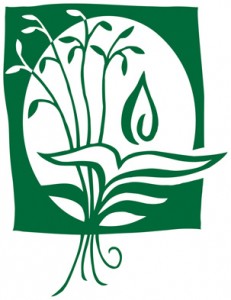 Svoboda also talked about their amazing community garden, where sixteen planters were very productive over the summer. The food from the garden was shared with congregation members involved in the program, as a way of encouraging lifestyle changes. Svoboda said it was a bumper crop year; 75 chard plants, as well as other surplus produce, was supplied to the Calgary Food Bank. The program encourages members to embrace locally grown foods, as it supports the local economy, reduces transportation damage to the environment, and promotes good health. They have hosted local-food suppers with a chef preparing food from local suppliers, further demonstrating to attendees the amazing variety and possibilities of locally grown food.
Inspiring Community Outreach
Interacting with the natural world continues to be a big draw for the Calgary congregation's Green Sanctuary. Janet Melrose, a local therapist, said about their inspiring horticultural therapy program, "We use our garden facilities for people who have mental or behavioral issues. We believe that gardening is a therapy tool, and is used to get them grounded back in the world."
Two very popular activities among the Calgary congregation's outreach to their community are their Film and Speaker Series. For the Film Series, they offer pizza, dessert, and a film with an environmental theme. The next screening on the schedule is Genetic Roulette, a documentary critically examining the health impacts of genetically modified foods.
The Green Sanctuary Speaker Series also focuses on current environmental concerns. One past event was on the Exxon Valdez Oil Spill, and its continuing impact on the environment after 24 years. The talks are held in partnership with other local green groups, such as ARUSHA and the Permaculture Calgary Guild.
Offering an Open Invitation to All
The Calgary Congregation's biggest event so far, Svoboda said, was the Spring 2014 panel on environmentalism and spirituality, which featured ministers, government officials and university scholars.
The Green Sanctuary Unitarian Universalist Congregation of Calgary wants to be a part of helping everyone in the community build connections between spiritual enlightenment and environmental consciousness. Offering an open invitation, Svoboda extends a welcome to one and all, and encourages us to attend the many uplifting events being held at our local Unitarian Congregations.
Keep up to date with all the eco-spirituality news here on EdenKeeper. Subscribe to our newsletter to never miss a story.